Every Monday I put on my supermom cape and head to Costco, (and pray my  year old won't have to pee until we get home!).  Then while the 3 year old naps in the afternoon, I spend at least an hour chopping and prepping my family's fruits and veggies for the week.  I do laundry and try to put the house back together after everyone being home for the weekend.  I love "starting my week off right", and know that the entire week will be better if I tackle Monday and get all my errands and housework done before the week starts to wear me out.
By the time Sunday rolls around, I'm so thankful to have a day where I don't feel like I should be running around like the maniacal mother I am during the week!  There's no pressure to run errands or clean the house, and I love that!  I love a day where I don't have to feel mom-guilt for sitting on the couch and reading a book.  I've always wanted to do the "right" thing, and I love that the right thing to do on Sunday is rest.  Having a day of worship and rest is critical, and I find that the older I get, the more I need it.  But our society values work and accomplishment more than anything else, and even though rest is crucial, it is often not seen as a priority.
Several days ago a beautiful meme popped up in my Facebook feed.  It said "Postpartum is a mother's Sabbath, a time to rest, be thankful, and revel in the glory of new life".  Isn't that beautiful?!  I love the powerful analogy it provides.  I have never considered the postpartum period to be Sabbath-like, but I think I will always consider it that way now.  I can't help but wonder how different the postpartum period would be for mothers if this was how we all viewed it..   Would they give themselves permission to truly rest?  And would others enable them to do so?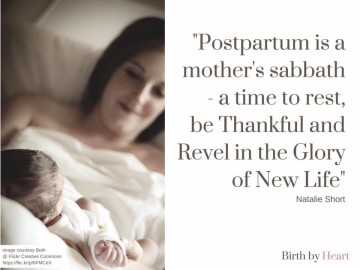 For many women, there is pressure to return to daily tasks like cooking, cleaning, taking care of older children, and even returning to the workforce.  We know that many American women are not given paid maternity leave, and their families rely on their income.  Other women want to be "supermom", and get back to pinterest as soon as possible.  But we also know that not taking time to slow down, recover from birth, and bond with baby leads to higher instances of postpartum depression.
It's not just moms who need to view the postpartum period as a Sabbath, but spouses, extended family members, friends, employers, and church members need to as well. If outside forces can't give women permission to rest, then women will never be able to.  We care too much about letting others down.
So what does a Sabbath-like postpartum period look like?  It will look different to everyone, just as the regular Sabbath does.  But there are some things that we can all agree on.
It should provide rest and respite from daily work.  Mothers should not be doing any chores or meal prep during the first couple weeks after giving birth (even longer for some women). Though some will want to, research shows that doing too much too soon leads to a longer recovery period.  It goes against our culture to slow down for more than a day or two, but it is needed and crucial for physical and emotional health.
It should inspire and spiritually uplift.  Since mom should be resting and spending much of her time in bed with her newborn, she can focus solely on bonding with her child and enjoying her special time to do so.  Bonding and resting without daily distractions is a gift that will only last for a short time, and should be treasured by the mother, and encouraged by her support team. But it won't be treasured if mom is trying to do it all, and is only able to give a part of herself to her newborn.  This is a great time to sing primary songs to your baby, listen to an uplifting podcast, and fill your own spiritual and emotional cup.  Spending a few weeks snuggled up to someone fresh from heaven is bound to inspire and uplift if there are no outside pressures or distractions, and lots of support.
It should be different from other days.  Women should not expect themselves to return home from giving birth and immediately pick up where they left off.  (It's the Sabbath, not Monday!) The postpartum period should be starkly different from everyday life.
Work should be done beforehand to ensure that the Sabbath can be peaceful and free from tasks.   Essential baby projects should be done before the baby is born.  The last thing a mom needs to be doing is painting the nursery at 5 days postpartum.  If tasks cannot be accomplished before the birth, then parents must agree to not finish them until several weeks or even months after the baby is born.  Dad can certainly take over painting and crib assembly after the birth, but that will take him away from being able to take care of his wife.  The Sabbath is always better when we are prepared for it.  When we are frantically preparing our lessons during sacrament meeting, we aren't getting the blessings of truly being edified by the meeting.  If mom is stressed and anxious because her life is not in order for her baby to arrive, then she will feel restless during her postpartum period, and miss out on some of the joys of truly being at peace and living in the moment with her newborn.
I love this analogy, and hope that others see the beautiful comparison and incorporate it into their own postpartum experiences, or help the new moms around them experience a Sabbath-like recovery.
Written by Marie Bigelow, MT, AdvCD(DONA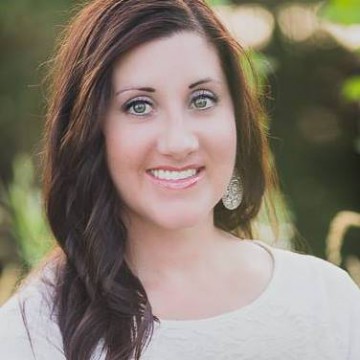 Author of The Sacred Gift of Childbirth