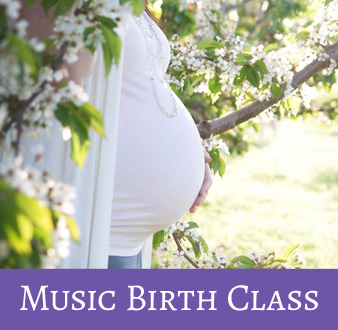 MUSIC BIRTH CLASS
All you need in just one night!
Class topics include:
Anatomy and physiology of labor and birth
Lowering your perception of pain
Playlists for each stage of labor
Breathing for each stage of labor
Positions and movement for each stage of labor
Massage and comfort techniques for each stage
Music Therapy for emotional preparedness
Guided imagery and relaxation
Positions for pushing and delivery
How music affects your baby
As a one-night comprehensive class, Music Birth is perfect for busy parents-to-be, a great refresher course for experienced parents and an empowering class for all parents who want to have a safe and comfortable birth. This class teaches moms how to become deeply relaxed, support people how to effectively encourage and comfort the birthing woman, and is the only class that teaches how to effectively use music during birth.
Classes are held at my home in South Meridian.
To register, call or email Marie at 801-473-9138 or musicbirth@gmail.com
All classes run from 6-9 pm, and are $100/couple
Class tuition includes 3 hours of professional instruction, one copy of my book The Sacred Gift of Childbirth: Making Empowered Choices for You and Your Baby, Music Birth Class Manual, Playlist sample CD and Imagery practice CD.
Upcoming Class dates: 
I am currently not offering any in-person classes due to the pandemic.  🙁   If you feel Music Birth is the right method for you, please Click here to learn about my self-study option for $75.
WHAT MOMS ARE SAYING…
"It was the most engaging, insightful and fun class I've been to in quite some time. Both my husband and I were blown away." Sarah N.
"I have had five children– four naturally, and have taken three different childbirth classes that included a variety of approaches to birthing– some that were helpful, and some that were not. Marie's approach includes relaxation, massage, and preparation– all things that I have found to be key to comfort in labor. The thing that sets Marie's classes apart from any others is the addition of music. Marie teaches how the use of music in preparing for childbirth can actually provide your body with a cue as to how it should respond at each stage of labor. Anyone who has been through natural childbirth knows it can be done, but that it can be very difficult to remain in control enough to relax in response to the intensity of contractions. Marie provides a powerful way to help your body maintain the control that is necessary for birth to be the amazing miracle it was intended to be." Amber D.  
"I DID IT WITHOUT ANY DRUGS!!!  Completely natural birth!  The music was insanely helpful! I listened to the transition music for much of the process, and we enjoyed the lullabies afterward. I just wanted to thank you for all you did.  Your class gave me the information I needed to prepare for birth, and the techniques to make sure it was natural.  Had I not taken your class, I would have likely had pain medications that would have been useless and harmful.  Additionally, because I had a natural birth, I was able to be by my baby's side at all times while she was in the NICU.  Thank you thank you thank you!"  Katie J.