Several months ago my doula partner, Virginia Bennet, informed me about the Advanced Doula Designation DONA was now offering it's long-term doulas.  Looking over the requirements I felt like I just might qualify!  The criteria included 1: longevity in the field, 2: additional certification or licensure in a related field, 3: had work published regarding childbirth-breastfeeding, 4: made a major contribution to the promotion and advancement of the doula profession and in the maternal-child field.
It is an honor to be awarded this designation, as DONA has over 6,500 doulas and fewer than 30 of us now carry this credential.  I'd like to point out that this designation was announced in late 2015, so I have never had the goal of attaining it.  The career decisions I have made the past 12 years were made because I care deeply about childbirth, and I have a burning desire to do all I can personally and professionally to improve birth for all women.  Below is a quick recap of my qualifications for this prestigious credential.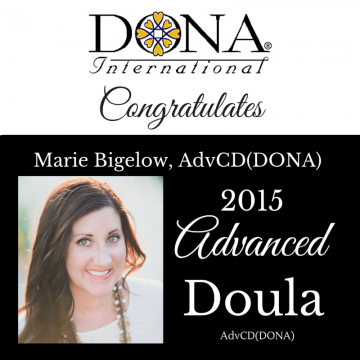 1: Longevity in the field: I've been a doula for over 12 years and have attended over 100 births.
2:  Certification or licensure in a related field: In 2005 I passed my board certification exam for Music Therapy.  I also specialized in Music Therapy Assisted Childbirth.
3: Publications: My upcoming book actually didn't count towards this criteria because it isn't officially published yet.  What earned me this spot was an article I had published several years ago in Doula International Magazine.  It discusses the benefits of lullaby writing.  Read it here.  I'm also a regular contributor to The Mommy Method education blog.
4. Major contribution to doula work: In 2007 I founded Treasure Valley Doulas and directed the group for 7 years.  As a group, we built and maintained relationships with hospitals and care providers, provided community outreach programs, and brought the first DONA approved conference to Boise.
It is a huge honor to be recognized for my work, but recognition is not why I work.  I work to improve birthing outcomes.  I strive to educate my clients in a way that prepares them to make informed and safe decisions during their births.  I provide physical support to them to help them have a more comfortable birth.  I encourage them and support them emotionally because everyone needs someone in their corner when things get tough.  I love being a doula.