As I wrote my book, I dreamt of giving women the birthing information they desire and deserve.  Information that empowers them to make the best choices for themselves and for their babies.  I dreamt of changing the world, one birth at a time!  But once people actually started reading it, I experienced a pretty big case of nerves!  As reviews started coming in, my nerves were eased with the glowing remarks of many readers and reviewers.  But there were a small handful of readers who did not like what they read.  I was prepared for that.  I knew it was unrealistic to expect everyone to sing my book's praises.
As I contemplated the few negative reviews I received, I began to see similarities in all of them. Misinterpreting the message, not understanding the data, and attaching righteousness to scientific outcomes were common themes.
So today's post is geared towards addressing these common concerns and hopefully adding some clarity to a very difficult and new concept regarding childbirth.  I worked tirelessly to find the perfect way to explain everything in my book, and overall, readers are understanding and appreciating it.  But I haven't found the perfect way to explain it to everyone so I want to take the opportunity right now to try to fix that with my list of four things that are difficult to understand regarding birth.
1: There is a physiological aspect of childbirth. 
There is a physiological component to most, if not all, physical aspects and actions of our bodies.  This is not a hypothesis and is not up for debate as it has been scientifically proven time and time again.  The primary difference between my writing and other scientific writing is I am saying that God purposely created the physiological aspect of birth.  Other researchers believe that evolution created this physiology in order to promote survival.  You may believe whichever theory you choose, but they both have the same science behind them, and the same ultimate goal of a healthy birth with a thriving mother and a thriving infant.
When birth occurs naturally, there is a physiological chain reaction that promotes bonding, increases breastfeeding success, and strengthens the woman physically and emotionally.  While many of my critics have tried to discredit it, the physiologic component of childbirth is well-documented and as such is one of the strongest arguments in my book. Believing in the power of physiology does not discredit the power of the atonement or free agency, but gives a broader understanding of the mind-body connection, and helps us make choices that can lead to greater health.
The physiology of birth is another testament of God's love for His daughters because it shows His love in every tiny detail of childbirth.  No, not everyone will experience birth the way God intended, but that doesn't make the information less important or less true.  We wouldn't dream of discontinuing teaching about the Word of Wisdom just because followers of the commandment will not have perfect health.  Healthy physiology is not guaranteed during birth, but is a goal women can reach for when planning for a safe and healthy birth.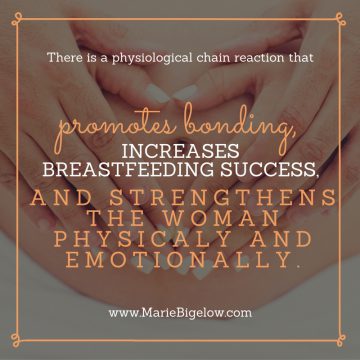 2: Mortality prevents physical and physiological perfection.
My book teaches that the design of childbirth is perfect, but our bodies are not.  We are able to apply this thinking to most aspects of our health, but for many it is difficult to apply to childbirth.  Surely God designed every aspect of our mortal bodies.  Every synapse and response is purposeful and perfect in theory.  Mortality takes a perfect design and allows it to be imperfect.  But the imperfections of mortality do not mean that God doesn't have a plan for the human body and its many functions.
Physical injury, physical illness and mental illness, are all (to a certain extent) an expected part of mortality, as none of us are immune to them.  Since childbirth encompasses the physical and physiological aspects of a woman's body, we can safely assume that mortality often interferes with the birthing process. God allows mortality to interfere with birth, just as He allows it to interfere with every other physical and physiological aspect of our bodies.  While God is capable of removing our earthly pain and illness, He often doesn't, as experiencing these trials is part of His plan for us to experience mortality and opposition in all things.  God is also bound by natural laws, and mortality is a condition that we all agreed to – knowing we would be tested and tried.
Along with mortality, we can't ignore how our personal choices have an effect on our overall health and on our births.  Just as proper rest, nutrition and exercise increase our chances of a long and healthy life, proper preparation and decision-making skills increase our chances of a healthy birth.
3: Our choices during birth often interfere with the physical and physiological aspects of birth, but that has nothing to do with righteousness.
Utilizing our free agency isn't always a matter of right and wrong, and personal worthiness is not relevant to birthing outcomes. This is a difficult concept for the Christian who has always viewed choices as good or bad. There is no righteous or sinful options during birth, just safer options with no religious tandem.
People really struggle with this one because usually choices that lead to poor outcomes are also labeled as sins, and that makes it easier for us to know what God wants us to choose.  This is not the case in birth.  Receiving an epidural or needing a cesarean are not sins (a point I make several times in my book), but they can lead to poor outcomes.  Since we are always attaching labels of sin and righteousness to our choices, this makes childbirth choices difficult to process and understand.  If getting an epidural isn't a sin, then why can it increase my chances of having postpartum depression?
Plainly because it interferes with physiology.
Physiological interference disrupts the birthing and bonding process for many women.  This information is crucial for women to understand, as Latter Day saints are encouraged (not commanded) to make decisions that support good health. Of course there are the big commandments like avoiding drugs and alcohol, but things like getting enough sleep and low sugar intake are healthy goals to strive for, but won't keep you out of the temple.  Our food and sleep choices often lead to poor health.  Poor health, however, has never been deemed a sin.  But poor health does make life harder and prevents many of us from using our mortal bodies to their full potential.
The physical and physiological potential of birth is miraculous and life-changing.  When understood this way, we can't help but see God's influence and our own personal influence on the experience.  A natural birth without complications is not a badge of righteousness just as a difficult birth with many interventions is not a scarlet letter.  They are both the combination of mortality and personal choices. The purpose of my book is to give black and white information categorized into risks and benefits and empower women as they make choices for themselves and their babies.  There is absolutely no talk of worthy or righteous choices.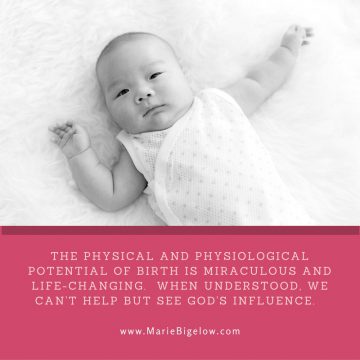 4: Science doesn't have to be politically correct.
Just like our LDS culture wants to assign sin or righteousness to everything, our modern-American culture wants to assign equality to everything.  Our politically correct world wants to give women the right to make any choice they want during childbirth, and present all choices as equally safe and rewarding.  While I agree that women should be given the right to make birthing choices for themselves, we should not ignore how those choices can affect a birth and the long-term physical and emotional health of the mother and child. 
As we strive for equality, we still must be able to admit that every choice will not lead to the same outcome.  Thankfully, data doesn't have to be politically correct.  We can choose to honestly look at the data and admit that many of the choices we are given during childbirth interfere with the normal processes and functions of birth.  It may not be politically correct or popular to admit this, but the truth often isn't.
For those who have misunderstood my work, I hope this has helped clear things up. For others, I hope you have enjoyed learning more about the incredible design of birth. Understanding the divine design of childbirth gives us more reasons to feel God's love. This understanding also empowers women to make safe choices based in data and doctrine.  Choices that improve outcomes, build testimonies, and strengthen families.