Sometimes, birth can be terrifying, especially if you put it in the wrong light.  Today I would like to share with you some of my more intimidating birth experiences and share how I turned scary into sacred.
The Sacredness of Following a Prompting
With over 20 years of doula experience, I have learned to follow the promptings of the Holy Ghost when I am supporting a birthing woman.  I know that following these sacred promptings has made the difference for me and for those that I support. I can remember one specific birth I was supporting when the client had been pushing for over an hour.  She had been lying on her back in stirrups.  The OB said that if something did not change soon they would end up on a c-section.
I had the thought of taking a sheet and playing tug of war with the laboring mom during each contraction.  This helped mom to change her position, and gave her something to hold on to as she bore down.  This was the game changer, and in less than 30 min mom had given birth.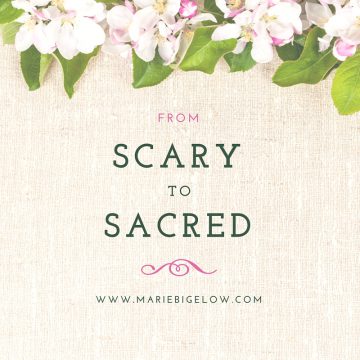 The Sacredness of Mother's Intuition
I am not the only one that can hear the promptings.  I have always believed in a "mother's intuition", and feel that a mother's intuition is the prompting of the Holy Ghost.  I am reminded of a laboring client who was laboring at home over night.  Everything seemed to be going well, and on schedule.  We had talked about when we were going to head to the hospital, trying to take rush-hour traffic into account.  After taking into account how her labor as going, and timing we had decided to stay home until after rush hour.
While standing in the shower, mom looked at me and said, "I have to go in now."  So we packed everything up and headed into the hospital.  It was before rush hour, but I believe in following a mom when she says something.  As we walked into labor and delivery her water broke, and there was meconium in the water.
Had we labored at home we would have been fighting rush hour traffic to get to the hospital. Because of the way her labor progressed she might have given birth in the car on the way to the hospital.  With the meconium in the water this would have been a risk to the baby.
Sacred Healing
I also believe that heavenly father can give us the gift of healing when things do not go the way we plan or want.
A couple of years ago I was excited to work with a young family that was planning to use a birthing center for their birth.  Not only was everything in the pregnancy going well, this baby was their surprise blessing, as she was told she was not able to bear children.  She planned on giving birth in a birth center, and there was nothing to indicate that a birth center birth would not happen.
After supporting this couple in their home for a few hours, we left for the birthing center.  Mom was amazing as she worked through each phase of labor. As the time passed, the labor progressed slowly.  At times it seemed like labor would stop progressing, and we would consider transferring to the hospital.  But every time we considered it, mom's body seemed to know what it needed to do to move forward, and it did.
After laboring for three days at the birth center, mom was finally dilated to 10 cm!  When the urge to push came, the midwife checked and gave the go ahead.  Mom pushed like an amazing warrior woman for 3+ hours.  The law states that after the water is broken for over 24 hours and the mom has been pushing for over 3 hours that they must transport the patient to a hospital for care.  We had hit our times limits, so the midwife transferred mom to the hospital.  She just could not push the baby out, not for lack of trying, but because the baby was stuck.
I followed the client to the hospital, and was there when the family came out of the cesarean.   The mom felt like she had lost something.  I remember feeling the warmth of the Holy Ghost as it gave me the words to say to comfort this mother.   I told her "You are amazing and strong.  You did everything you could.  It was not your fault when your daughter- for whatever reason- needed to come into the world this way.   You did everything you could.  And you will be an amazing mother."
After her birth, Haylie, the mom from the above story, posted this about me "My birth was a hard and long journey. I was happy to have Bev with me the whole time. She stuck by my side with all 3 days of my labor and even stayed when we transferred to the hospital. She helped me through the pain even better than my own mother could.  She made me feel powerful and like a real woman. She reassured me that even though the birth ended up in a c section, I tried my hardest and that I was doing the best thing for me and my baby. I would recommend her to anyone who is about to give birth. I will ask her back for another birth if I ever get pregnant again."
Four years later, I was given the privilege of supporting Haylie in the VBAC of another daughter.  The labor started naturally.  Mom was scared that something would go wrong with this birth, such as this little one would also get stuck and mom would end up with another C-section.
The labor progressed quickly, and soon it was time to push.  As mom started to push we felt the Holy Ghost fill into the room with comfort.  Mom had a natural VBAC.  I knew that our Heavenly Father provided healing for both of us during this amazing birth.
Though birth can take turns that can fill us with fear, by utilizing the Holy Ghost we can replace those feelings with feelings of peace, and know that God is always aware of the birthing woman.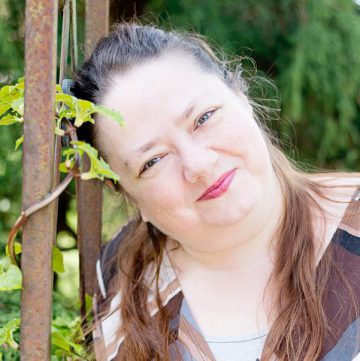 Written by Beverly Young-Reed
Web: www.birthnmore.com
Email: Bev@oakharborbirth.com
Phone: 360-292-5976
Beverly started her path into the birth world over 30 years ago when she was expecting her first child.  She took a couple of different childbirth classes because she really wanted to be prepared.  It was during one of those classes she knew she wanted to become a Childbirth Educator.  She took a training to become a "Birth Coach".  In April 1, 1985, Bev coached her first birth
Bev decided to certify as a "Doula' with a local organization that has since closed its doors.  Bev received her first international doula certification in 2003 with DONA, then in 2013 with Madriella.  She is currently working on cross certification with StillBirth Day as a bereavement doula, and ProDoula.  In 1996 Bev received her "Childbirth Educator for Doulas" certification and started teaching private and group childbirth classes.  She is currently working on the CBE certification with ProDoula. In 2008 Bev received her accreditation as a Level 2/3 provider for the Power of Positive Parenting. Bev has multiple certifications, collage classes, and various trainings that help her to be a great doula.  She is always seeking out new knowledge to stay current and to learn new things.
Bev has served with various organizations that focus on pregnancy, families, and parenting.  She was a founding board member for Bay Area Birth Information while living in the Bay Area.  She was asked to join the Tacoma Labor Companions board of directors, and served on the Advisory Board for Madriella helping to create the doula curriculum while mentoring new doulas.  Bev was one of the first two Madriella Hands on Doula workshop providers.  For local hospitals Bev created a volunteer, on-call Doula program at Capital Medical Center, and was one of the first volunteer doulas at St. Joseph's hospital in Tacoma. Bev continues to be active in her local birthing community providing outreach and resources for families.
Bev joined the LDS church at the age of 15.  She was sealed in the Seattle Temple to her husband, and they parented 5 children together.  She loves to serve her Heavenly Father whenever she can.  Some of her favorite callings have been Primary 1st counselor, Ward music leader, and Relief Society teacher.